Titulo: "The Aristocrat and the Desert Prince",

"

El aristócrata y el príncipe del desierto"
Autora: Tono Haruhi
Ilustradora: Hasukawa Ai
Género: Yaoi, romance, drama
Volúmenes: 1
Páginas: 206
Año: 2004
Sinopsis: En su joven vida , Takeyuki nunca ha pasado por dificultades. Siendo el hijo menor de una familia adinerada, nunca le ha resultado dificultoso obtener cualquier cosa que él deseaba. Ahora, sin embargo, Takeyuki está disfrutando su último mes de libertad antes de que comience a trabajar en la compañía de importación de su padre en Tokyo, y él ha decidido pasar ese tiempo con su hermano y su cuñada en Cassina, un pequeño país en el Oriente Medio.

Poco debe saber Takeyuki que su orgullo pronto lo hará aterrizar el en agua caliente! En Cassina, algunos peligros son muy reales y algunas personas no son lo que parecen. Por ejemplo, exactamente ¿quién es el hombre encantador, majestuoso, que no parará de mirar fijamente a Takeyuki durante su vuelo a Cassina? y ¿por qué sus ojos azules hacen a Takeyuki sentirse como si su pecho fuera a estallar?
Al principio no me llamaba mucho la atención, pero una vez comienzas a leer, te engancha y cada vez es más y más excitante. No puedo decir que hayan grandes sobresaltos o sorpresas, pero tampoco es del todo predecible.
Los personajes son bastante adorables, y las ilustraciones acompañan bien a la novela. Es una historia muy romántica, y con mucha aventura. La hace atrayente que se envuelva en el Oriente Medio y no en Japón, para variar un poco. Corta y algo irrealista, pero muy entretenida al fin y al cabo.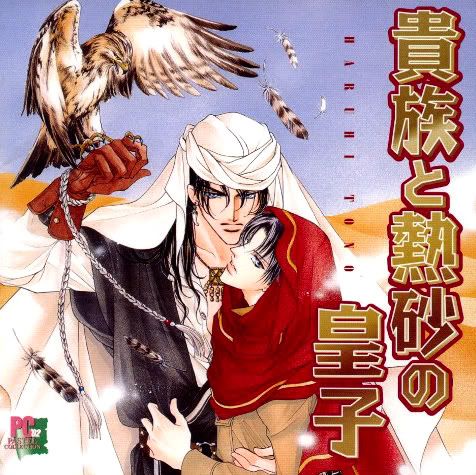 La puedes descargar en español aquí: